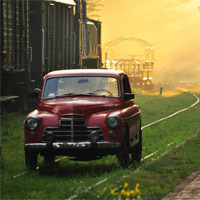 MISSION
On this platform at this little station you can sit down and reflect, talk or be silent, or you can set about writing or painting walls. Sometimes one must do something what was so far reserved for others to start loving life and people around again.
We live in the world where we can very easily get lost. Everyday we make thousands of decisions. Each day young people ask what to do next, and some look for solutions not to lose their faith. Everyday many elderly spend time in loneliness, while others cannot even hear their own thoughts in the daily turmoil.
The mission of our Association is to offer help to people endangered by exclusion, or already excluded from the society regardless of the reason in returning to an active social and work life.
VISION
PI-stacja was established as a space where one can stop, be an observer, or participate in creative projects no matter of age. We create possibilities for getting out from 'the turns of life' by unlimited acts in the artistic, cultural and scientific fields. We focus on unrestricted imagination and faith in potential, which arise from the forgotten relations between a master and his pupil.
GAZETOWNIA
Gazetownia – the international project created within the frames of PIstacja Association's activities, under the media patronage of PIstacja Media.
The first edition of Gazetownia – the socio-cultural magazine – was issued on April 29, 2011. The leading word of that edition was 'beginning'. From then on the subsequent editions have been published monthly accompanied by intentionally chosen keywords, i.e. 'mask', 'body', 'question'. In this magazine our readers can hopefully find advice for searching one's own best way in work and personal life, but also interesting articles, stories and 'lighter' but not less valuable fairytales for adults. Lovers of poetry may enjoy tasting poems not published yet elsewhere, and fans of dance and music also will find related items. Travelers who never sit long in one spot can get inspired for new journeys by articles presenting unique places. But as we do not want to be seen only as limited humanists, we also created 'a science corner' called Szort Mat.
Gazetownia connects different generations and is for all those who do not want the word 'life' to be only an empty shell of a blown egg. As a team we agree with one accord to promote values, which in the present life too often give way to a one-dimensional perception of the world. Our journalism avoids cheap sensation and does not employ vulgarism and violence for great effects. We base on such values as thoughts and words. We concentrate on human beings as a fascinating piece of the whole universe. We inspire for creative acts, discovering one's writing or reporting talents, no matter what age, and according to our mottos: 'we unite generations in the whole world' and 'we will pass on your idea to others'.
THE BOARD
Katarzyna Bogucka - President of the Board
Joanna Wroczyńska - Vice-President of the Board
Agnieszka Betkier - Secretary of the Board
Joanna Dudek-Ławecka - Treasurer of the Board